Here we go again, 10 more weeks of travelling! This time around we'll be in Vietnam, Laos, China and Japan, so three new countries for us there, a serious haul, and our first new country since The Philippines at Christmas (a whole six months ago, poor us, I know…). We were working in HK right up to the last minute and on top of that, we've just moved out of our apartment, so it was a very hectic few days, getting everything moved out, packing our things and finalising everything for the holiday itself, but we're here now, at our first destination, Ho Chi Minh City.
GOOOOD MOOORNING VIET--- nah, I can't do it...
So, here we are in Ho Chi Minh City, formerly known as Saigon. We flew out from HK to HCMC, via KL, on the morning of June 19th (a ridiculous number of initialisms in that sentence!). We changed our money at the airport into a mixture of US Dollars (which seem to be a secondary currency in most countries around here) and Vietnamese Dong. But seeing as €1 gets you 25,000 Dong, we were left with a serious wad of cash, I could barely fit it all in my wallet. First world problem, I know.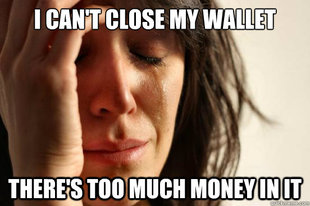 It made me quite self-conscious though, my Dong was making a serious bulge in my pants!
On the flight over, we met a lovely local who gave us some tips for our stay. He also told us that we'd really like Laos because the people are lovely, but the Vietnamese, not so much… I don't know if he was being modest or honest, although a few other local people so far have told us the same thing. As of now, we've no complaints, they've all been very nice and friendly to us, but I suppose like any country in the world, you've still got to keep your wits about you.
We arrived at our hostel late that evening, so it was straight to bed and then up the next morning for a leisurely walk around the city, as recommended by the Lonely Planet. Our first stop was Ben Thanh Market, which we just walked straight in and out of - once you've seen one traditional market over here, (unless you're looking for something in particular) you've pretty much seen them all. Next, a couple of nice buildings, the Hotel de Ville and the Municipal Theatre, and onto the 70's styled Reunification Palace.
It was a nice enough place, a couple of tanks outside, a few important looking meeting rooms but that seemed to be all. We had read that the basement was the most interesting part but when we went down there, it just seemed to be a set of eerie corridors that led to nowhere. We thought we must've been in the wrong place but as we delved a little deeper the eeriness became all the more eerier (I don't know if either of those are real words...). The corridors became scattered with doorways that led to random, Kafka-esque rooms, with maybe a single desk and a telephone or a machine that looked like it did something really important but impossible to tell what.
This one had TWO telephones!
We finally made our way out of the underground passages, stopped for a milkshake, and then headed to the War Remnants Museum, formerly (and more accurately) known as the Museum of Chinese and American War Crimes. It was one of the most interesting museums I've been to, but not one for the faint-hearted, or if you're a proud American.
It basically documents some of the atrocities of the Vietnam War, and drives the point home with pictures of mutilated bodies, bombed towns and, probably the most horrific of all - the survivors, many of them maimed or disfigured, or the children born with

deformities

from chemical weapons. I won't put up pictures from here. As I said, not one for patriotic Americans, unless you take pride in seeing pictures of an American GI posing with the corpse of the child he just shot dead. A really interesting museum though, a must-see if you're in the city.
We finished off our tour with, the thoroughly out-of-place, Notre Dame Cathedral (as seen below), and the thoroughly disappointing and hard to find, Jade Emperor Pagoda (as never to be seen again).
The next day, we went on a little day trip to the surrounding areas of HCMC to see the Cao Dai temple in Tay Ninh, and the Cu Chi Tunnels. One thing we've learned over the course of our travels is that you never really see much of note in the big cities, it's always in the small towns or in the countryside where you find the real gems, and today was no different, with two very different, but very enjoyable excursions.
First to the town of Tay Ninh, which is kind of the Vatican City of the Cao Dai faith - a 20th century religion which takes elements from the teachings of Taoism, Buddhism and Confucianism, pretty standard stuff. They also have a few saints, you know the usual suspects, Jesus, Buddha, Mohammed... Shakespeare... Napoleon... Joan of Arc... as well as around 70 other "Holy Spirits" such as Winston Churchill, Lenin and Louis Pasteur! Well, if you're going to make up a new religion, then why not bring in the big guns?!
The temple itself was actually really unique and beautiful though, and we even stayed for the 12 o'clock service. Have a look at 54 seconds of it here:
http://www.youtube.com/watch?v=W2VK3cvRbzU&feature=youtu.be
You might as well, seeing as we forgot to make a video diary...
After Tay Ninh, and a stop off for lunch, we went to the Cu Chi Tunnels - an intricate, underground tunnel network built by the local Vietnamese and used by the Viet Cong in their fight against American troops. We first watched a documentary and then the tour guide showed us around, telling us of the ingenious ways the locals fought back - from home-made booby traps, to clever little back-to-front sandals, and of course the tunnels themselves.
At some points, as you can see above, the entrances were little bigger than a shoe box, but underground they widened out and were equipped with ventilation, bomb shelters and booby traps for anyone brave enough, or stupid enough, to follow them in.
We crawled our way through one section of the cave alright, but that was more than enough to experience how dark and cramped things were down there.
And that was that for our stay in Ho Chi Minh City. We got the bus back from the tunnels, had dinner and then embarked upon a 16 hour train ride up to Hoi An, sharing a 6 berth cabin with 8 other people - fun times ahead!